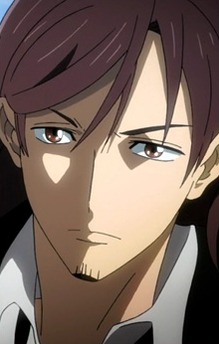 Souichirou Mikuni
33-year-old who meets Yoga in the financial district.
Mikuni's asset is similar to Kimimaro's Msyu, and is named "Q." However, "Q" is not Mikuni's only asset, as it is revealed in later episodes that he has more than one.
It is revealed in episode 10 that Mikuni is the only one in possession of a black Midas card, which allows him to spin the rotary press in episode 9 and 10. The rotary press is the giant golden clock in the center of the Financial District that is able to print Midas Money in exchange for the "future." Mikuni uses the black Midas card to spin the rotary press to generate an insane amount of Midas money in order to prevent [C]'s backlash from the East Asia Financial District's bankruptcy.