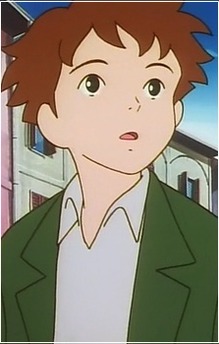 Romeo
ロミオ
Romeo (Originally named "Giorgio" in the novel "Die schwarzen Brüder") grew up to a loving family in Sonogno, a small village in Switzerland which is located near the Italian border. His father Roberto is a farmer, while his mother Jessica is a housewife. Romeo has twin brothers: Carlo and Pietro. He also has a grandmother named Maria and a pet ermine named Piccolo. When Romeo was still a child, he had the job of ringing the church bells every morning in his village. He also used to go fishing with his friends on sunny days. Romeo even helped his father on the jobs in their family's cornfield. He helps the people around him without consideration of himself.
A long-standing drought struck Sonogno Village and many families suffered because of this, including Romeo's family. During this time, Luini, the "God of Death," came to the village, searching for boys that he could buy and sell to become chimney sweeps in Milan. Romeo unfortunately became Luini's interest. The "God of Death" asked Romeo's father Roberto to sell to him the then 11-year old boy, but Roberto refused. In order to bind Romeo under a contract, Luini burned the remaining cornfield of Romeo's family. During this tragedy, Romeo's father got a head injury which caused his blindness. Romeo's family could not afford to get a doctor for Roberto because they lost their livelihood. The 11-year old Romeo was forced to sell himself to the "God of Death" in order to get a doctor that could treat his father's illness. After Romeo signed a contract with Luini, a doctor from Locarno named Baregi was brought to Sonogno and treated Roberto. Romeo then sadly left his family and embarked on a long journey to Milan. It was during this journey that Romeo first met Alfredo, who saved him from an apple vendor who mistakenly accused him of stealing apples. Romeo and Alfredo quickly became best friends. Together they were sold in Milan by the "God of Death" to their respective bosses. Romeo was bought by Marchelo Rossi. Before Romeo and Alfredo separated, they swore eternal friendship and promised to each other that they would meet again.
Romeo experienced many hardships and triumphs while working as a chimney sweep in Milan. He experienced to get mistreated by the Rossi family and get bullied by the Wolf Pack gang. Later, Romeo and Alfredo were reunited with each other. During the reunion, Alfredo revealed to Romeo his intention to create a fraternity for chimney sweeps that can help each other in times of need. Together they joined forces with other chimney sweeps in Milan and the Black Brothers was formed. Romeo and the other members of the fraternity chose Alfredo as their first leader. The Black Brothers defeated the Wolf Pack during their fights at San Babila Church and Sempione Park. The greatest triumph of Romeo in Milan happened when he learned to read and write through Professor Casella. With the help of the kind-hearted professor, the then "no read, no write" boy was brought to the world of knowledge. Romeo became knowledgeable in writing and even became fond of reading books like his best friend Alfredo. When Alfredo died of tuberculosis during a cold winter in Milan, Romeo became deeply depressed, but after hearing encouraging words from the Black Brothers and Alfredo's sister Bianca, he managed to accept his beloved best friend's death. Romeo succeeded Alfredo as leader of the Black Brothers. The first thing that he did as leader of the Black Brothers was to start a fundraising for Alfredo's funeral. The fundraising became successful and Alfredo was given a decent funeral.
Romeo fortunately finished his working contract in Milan when spring came. He then happily returned to his family in Sonogno Village.
Romeo was accompanied by his pet ermine Piccolo during his entire journey to Milan. He was also accompanied during his entire stay in the city mentioned and even when he returned home to Sonogno Village.
Ten years after finishing his working contract in Milan, Romeo became a teacher.
Romeo and Bianca (Alfredo's sister) were married and they named their first child after Alfredo.