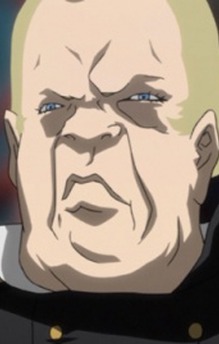 Alexander Joy Cartwright
The overweight American admiral, who, unsurprisingly, swears like a sailor. His name is taken from one of the founders of the Knickerbocker Club, the first organized baseball league. Cartwright is known as the "Father of Baseball". The naval uniforms worn by the Americans are wrong for the time period of Champloo (when "America" as a political entity did not even exist) but correct for the period of Commodore Matthew Perry, who forced the shogunate to repeal the Dutch trade monopoly. When his ship makes landfall in the tiny village, Cartwright demands to speak to the leader, and then threatens to attack (with his big, nasty, phallic cannons…) if the country is not immediately opened to foreign trade. He scoffs at Kagemaru with his baseball until Kage challenges him and his crew to a game to settle the dispute. After the first few at-bats show the Japanese consistently getting on base, the Americans decide to get nasty and use their (HUGE) girth, some very nasty pitching, and a crooked deal with the ump to try and cheat their way to a trade agreement.
When Cartwright comes up to bat against Kagemaru, he deliberately cracks his bat into pieces that go flying off towards the pitcher, killing him (he gets his revenge by catching the ball and striking Cartwright out). He goes down after taking one of Mugen's lethal pitches in his jowly cheek.