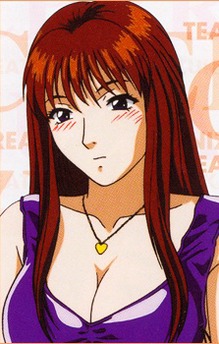 Tomoko Nomura
A student in Eikichi Onizuka's class, Tomoko Nomura has a large chest (her cup size is F), but is not too bright, leading to people calling her Toro-ko (Toro meaning "slow" in Japanese; she is nicknamed Slo-mo-ko in the English version). After initially messing up her role in one of Miyabi Aizawa's plans to get Onizuka fired, she is cut off from Miyabi's group. Seeing her rather slow, clumsy nature, Onizuka enters her into a local beauty contest. He even arranges two porn producer friends to dress her up for the competition. Rather than read the given script for the acting category, Onizuka gives her a couple of action figures and she ends up doing an excellent improvised piece (with Vice-Principal Uchiyamada getting an accidental role). In the anime, Onizuka throws a cellphone on stage and she leaves a sentimental message on Miyabi's answering machine instead. She doesn't win, but she gets noticed by several television producers and begins starring in various commercials. Her young male manager, impressed with her natural beauty, and after falling in love at first sight, makes it his lifetime goal to help her succeed.
She was friends with Urumi Kanzaki since childhood, and their close bond likely arose out of their opposite personalities (Tomoko is clumsy and rather docile with a heart of gold, compared to Urumi's intellect and potential to be savagely cruel).
A side-story in the manga features Tomoko and her manager, also called GTO, only it stands for Great Tomoko Oppai (Oppai meaning breasts). In it, Tomoko's manager embarks on one very madcap adventure to save her from her dubious producers. In the live-action, instead of her succeeding dramatically in subsequent episodes, she would part for an Okinawa acting school.