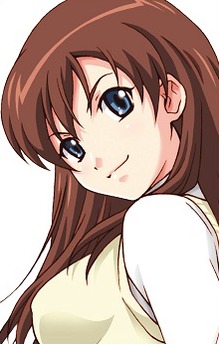 Aya Iseshima
Aya is the main protagonist of the series. She is a high school junior and excels greatly in martial arts, though she tries to keep the fact that she's a good fighter a secret. It is hinted that she has a crush on her best friend Natsume's older brother, Haruki. She enters the contest for the Platonic Heart because her newfound friend, Miko, goes missing. Aya hopes that by winning the contest, Miko will be found.
It is shown later in Aya's fights that she is somewhat of a cold-hearted killer and a berserker who stops at nothing to defeat her opponent.
Aya finds out that she is actually Miko's half-sister, and that Miko, Natsume, and Haruki all actually hate her and were only pretending to be her friends in order to get revenge on her for what her father did to their mothers.