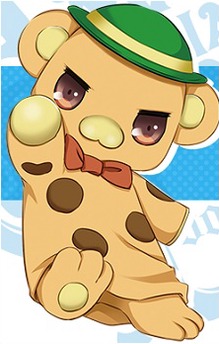 Moffle
モッフル
A fairy of candies with the form of a mouse with a hat and Amagi Brilliant Park's main mascot who takes a mutual disliking towards Seiya. He is Latifah's uncle. His appearance resembles Bonta-kun, the fictional mascot from Full Metal Panic? Fumoffu.
In episode 8 of the anime, he rants off at some high school girls while disguised as Seiya about how they know nothing of love and the suffering it can produce. He mentions watching the woman he's loved for ten years being married off to a guy he absolutely hated, then being entrusted with their daughter years later.
Isuzu immediately asks if he was referring to Latifa, but Moffle claims he was just speaking hypothetically.