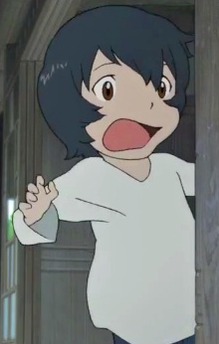 Ame
Ame is the youngest wolf child. He is shy and quite weak. He looks awfully lot like his father. He is a year younger than his older sister, Yuki.
Later in the movie, Ame wants to be a wild wolf instead of a normal human like Yuki.
Ame later goes onto living in the mountains to pursue his dream of living as a wild lone wolf and to follow in his teacher's footprints, while guarding the mountain and his territory. He would sometimes call out to his mother in the wind of the mountains.