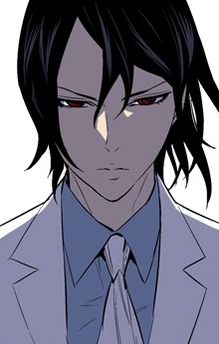 Cadis Etrama Di Raizel
Rai is a very elegant and mysterious Noble. He has no knowledge whatsoever of the 21st century, and will often become lost and confused especially with regards to modern day technology (such as using a cell phone). He is often used as the manhwa's comic relief with his love of ramen and the errors he makes with technology. He has fallen into a deep slumber for 820 years, and had woken up in an abandoned building in South Korea. After seeing what most of the humans on the streets were wearing, Rai took on the uniform of a student from Ye Ran High School, which is under the administration of Frankenstein, and inadvertently followed the students there.
Rai is, in fact, the "Noblesse", where the name comes from. The "Noblesse" is a name given to the person who watches over the nobles. The "Noblesse" also symbolizes power, different from the lord, who symbolizes authority.
However, rather than protecting the nobles, it is in his nature to maintain the balance of power in the world by eliminating nobles who have strayed away from the righteous path.