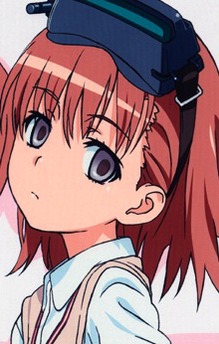 MISAKA 10032
Introduced in both the third volume of the novel and manga respectively, and episode ten of the anime, Tōma meets the younger "twin sister" of Mikoto whom he calls Misaka's sister (御坂妹, Misaka imōto?), who seems rather quiet and emotionless. Her voice is rather monotone and machine-like, and her speech pattern is unique; as she speaks, she adds a description of herself speaking before in third person. Despite this, she has a soft spot for cats. Mikoto seems to dislike and worry about her for some reason and later events reveal why.
In reality, Misaka's Imōto is a clone of Mikoto, in fact she is No. 10032 out of 20000 other clones copied from Mikoto called "The Sisters."
Even though they have a weaker variant of Mikoto's powers of electricity, all of their minds are connected together using a special psychic ability called Radio Noise (欠陥電気, Kekkan Denki?, "Flawed Electric"), an ability which lets their brainwaves become electric signals, which allows them to share memories thanks to their communication network, a.k.a. the Misaka Network, it uses the Radio Noise to a great extent and works like the Internet, sharing information with each other. Being rapidly manufactured clones, they do not change their facial expression much, as they did not learn how to.
Even though 20,000 clones were created in total, all clones below No. 10032 were killed earlier and were used in an experiment designed to create the first Level 6 psychic ("Level 6 Shift").
She was the one who Touma and Railgun saved by fighting with the Accelerator. And she is different from rest of the other sisters because she was the only one to receive a special necklace from Touma, while she was looking for the goggles that was stolen by The Last Order "Misaka 20001." The reason for Touma to do so was to identify her that she is one of the sisters not the original.