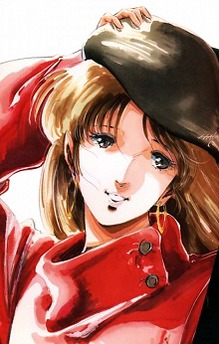 Misa Hayase
Misa Hayase is one of the central characters of the Macross series. In the Robotech edited adaptation, she is known as Lisa Hayes.
Born into a family with a hundred-year military lineage and the only daughter of Admiral Takashi Hayase, Misa had aspired to enter the military since childhood. This dream was bolstered by a desire to join her boyfriend and first love, Riber Fruhling, in the UN Spacy, a hope tragically unrealized as he dies shortly after leaving Misa on Earth.
After graduating first in her class at the UN Spacy Officers' Academy, she earned a bridge post aboard the SDF-1 Macross. As she herself admits, her mind is constantly preoccupied with duty. This changes, however, after she meets the young pilot Hikaru Ichijyo. Their officer/subordinate status would slowly evolve through the series, from originally a professional relationship to a friendly personal one; and much later to a romantic one, clashing with the already strong infatuation Hikaru has with Lynn Minmay. She also has some short-lived feelings for Minmay's cousin Kaifun, who bears a striking physical resemblance to the deceased Riber.
Initially ranked as First Lieutenant, she is later promoted to Captain, and later to Major, concluding with her being chosen as the commander of the new SDF-2 Megaroad-01 ship and crew.