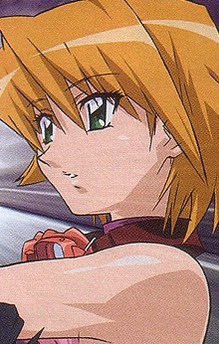 Sayoko Tsukinomori
A girl who travels with Bocca to seek her love, Kurofune. She was given as a sacrifice to the monsters by her parents to improve her brother's chances of becoming a Monster Union agent. Kurofune rescued her and she fell in love with him. She ran away from the home Kurofune placed her in to chase after him. On her wrists she wears the chains that bound her as a sacrifice and with them she can track Kurofune. They will point to wherever Kurofune is if she is lucky and there's nothing standing in the way of her and Kurofune. During the journey, Sayoko develops a relationship with Bocca.
Although her identity as a runaway child is the first facet of her character that is introduced to viewers, Sayoko is better known as daring, sensitive girl who is ready to risk all for love. She also has pick-pocketing skills to rival a professional, which helps her survive and bring her to Bocca. They later become friends when she realize that Bocca is a Melos Warrior, and decides to follow him so that she can look for Kurofune, whom she is in love with. Around Sayoko's left wrist is a red chain that vibrates and pulls her in the direction of Kurofune when he uses his power.
Bocca says that Sayoko is a "girl who belong to a world of sunlight", but despite being generally cheerful in disposition, Sayoko's past is marred by a dark truth. Her parents always loved her brother more than her. When her brother grew up, Sayoko was sacrificed to help her brother become a member of the Monster Union and Kurofune saved her from it. That was when Sayoko fell for him. Together, Bocca and Sayoko traverses many monster-controlled area, delving into the monsters network and hierarchy. Amidst the conflicts and chaos, Bocca and Sayoko grow closer and find that their fondness for each other had developed into something more than friendship.