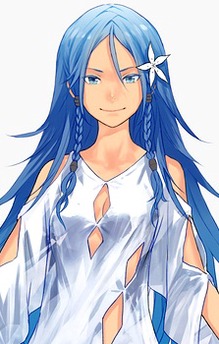 Miach Mihie
Miach is one of Tuan's best high school friends. She is brilliant and intelligent, who doesn't agree with present world. Her personality is that of a calm and philosophical girl; she is very charismatic and capable of manipulating those around her to an impressive extent. She was a problem student with the best grades in the class, who only conversed with Tuan and Cian.
Miach is the one who influenced them in order attempt suicide as the ultimate act of rebellion against the world. She was the only one of the three high school girls who died as a result of this attempt.
It is later revealed that she is alive, because her suicide attempt failed as well. She is the one responsible for the mass suicides taking place around the world.