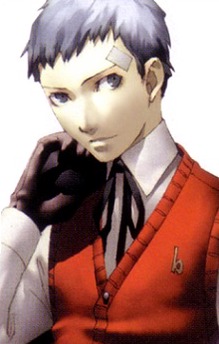 Akihiko Sanada
Akihiko is the mature and confident captain of his school's boxing team, as well as a senior at Gekkoukan High. He is a hard worker who balances a high GPA with near-constant training. Since Akihiko is a boxer, he uses gloves and claws in battle. His Personas can be used to cast lightning magic and debuff spells. He cannot fight for the first part of the game because of injuries. Akihiko was one of the three Persona users who originally founded SEES, alongside Mitsuru and Shinjiro.
The twenty-eight-year-old Akihiko appears in Persona 3's anime sequel, Persona - trinity soul -, as a contact of one of the main characters, a police chief.
He is seen talking with Ryō on the phone in the beginning of the series. He knows about the Persona and Reverse cases as they are usually the conversation topic. He is currently working with the police force after prior events 10 years ago from Persona 3. He was one of the main character's companions in Persona 3. As of episode 14, Akihiko has officially entered the universe of Persona: Trinity Soul, seen entering the elevator of the police station behind Shin and then later talking with Inui as a member of Marebito loses control of his persona in the city square.
He and Shinjiro were close friends as children, having grown up in an orphanage together with Akihiko's now-deceased sister Miki. However, one night when the two were chasing down a Shadow, Shinjiro's Persona went out of control and an innocent bystander was killed. The bystander was Ken Amada's mother.
After the incident, Shinjiro left SEES and his friendship with Akihiko became strained. The two only reconnect when Ken joins SEES, and Akihiko convinces Shinjiro to rejoin the group in order to protect him.
When Akihiko realizes that Ken only volunteered for SEES as a means to get revenge on Shinjiro, he tries to save both of them from making grave mistakes, but he arrives too late. Though Ken lets go of his vendetta, Shinjiro is fatally shot while protecting him from Takaya. In the end, Shinjiro's way of facing death head on gave Akihiko the courage to carry on in spite of all his losses. Akihiko is determined that Shinjiro's death not be in vain and to be just as fearless in the face of his own mortality. He is the character that is the least upset and conflicted about the impossible odds of fighting Nyx.