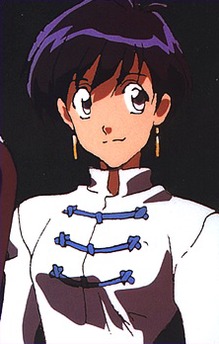 Meryl Stryfe
メリル・ストライフ
Meryl Stryfe and her junior co-worker Milly were sent by the Bernardelli Insurance Society to evaluate claims regarding Vash the Stampede. Despite her serious attitude and short temper, she is a good person.
Although she doesn't often fight alongside Vash, she hides many derringer-style "throwaway" pistols under her coat. She once referred to herself as "Derringer Meryl."
Initially, she finds Vash to be a nuisance and dismisses the idea that he is the legendary Humanoid Typhoon. As time passes, she realizes that Vash isn't the villain that he is made out to be nor the buffoon that he presents himself to be. Gradually, she comes to respect Vash and love him deeply.
It is also hinted near the end of the anime that she may possibly be the reincarnation of Rem Saverem. This, however, is not present in the manga, and may have been an independent decision by the producers of the anime. Another source of this belief is through the construction of her name, where as Meryl = Mer-yl = Rem
It is hinted that Meryl has problems involving her family. Early in Trigun Maximum, she celebrates her 23rd birthday, which means she was 21 at the beginning of Trigun.
Meryl is very short, more so in the manga than in the anime.