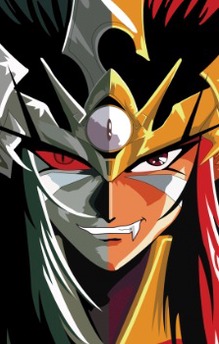 Zenki
Zenki ist the strongest demon guardian spirit in the whole universe. He has been summoned and bound by the great master Enno Ozune many centuries ago to fight evil. After succeeding was sealed away, likewise Karuma – the evil beast..
Zenki is only interested in fighting his opponents and winning. He is stubborn and surly, therefore has a very strong will and character. In the first episode the evil beast comes back, just like the prophesy predicted: the Karuma will soon be reborn.
Enno Chiaki, a normal schoolgirl living in a shrine with her grandma, the descendant of Enno Ozune manages to break the seal on Zenki, while being attacked by a Karuma-monster. Yet, the seal did not break completely.
Zenki is bound in a child-sized form when not fighting evil. Due to his defiant nature, Chiaki must use the power of the bracelet which appears on her wrist to bring him to full fighting stature or to call him when she's in danger. With time Zenki starts to treasure Chiaki and her friends.