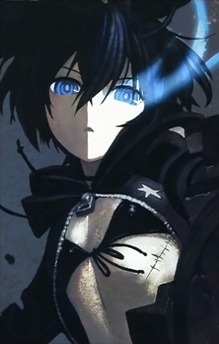 Black★Rock Shooter
Black★Rock Shooter is the titular character and main protagonist of many projects, including the anime OVA Black★Rock Shooter, the RPG of the same name, the anime series and the manga Black★Rock Shooter ~Innocent Soul~. She was an original concept created by huke who participated in the release of the song "Black★Rock Shooter" by supercell.
Her clothes consist of a string bikini top under a black jacket. The jacket has a white stripe running along the length of each of her sleeves and has a white star design on the front (left side) and back. She also wears a pair of tight-fitting shorts, gloves, and black knee-high boots.
Her weapons consist of a black-hilted katana later named as Black Blade and a large gun called ★rock Cannon. She is the "other self" of Mato in the other world.
She is shown to be very skilled in fighting, despite being quickly taken down by Black★Gold Saw in her first shown battle. Black★Rock Shooter is able to fight evenly with Dead Master, despite appearing to try not to hurt her.