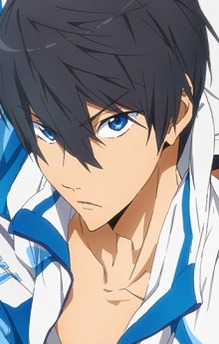 Haruka Nanase
Freestyle swimmer (crawl) of the Iwatobi High School swimming team.
Haruka Nanase is an 11th grader who loves to swim. His strong and quiet swimming style fascinates many, and he holds a strong fixation on freestyle swimming.
Haruka's best friend is Tachibana Makoto whom has been by his side since they were children. He met Hazuki Nagisa and Matsuoka Rin in elementary school. Rin joined the Iwatobi swimming club after transferring, and Nagisa was already in the club. The four of them swam in a medley relay together before graduating elementary school, the relay as well as a few words from Rin left a big impact on Haruka.
In his second year of high school he creates the new Iwatobi swim club together with Makoto and Nagisa. In episode 3 Ryuugazaki Rei also joins the club. At this point Rin has developed a strong rivalry against Haruka which comes to be the focus point of season 1.
He has an obsession with mackerel, and it is pretty much the only thing he eats.
It was revealed in episode 2 that he quit swimming competitively because he hurt Rin when he won against him.