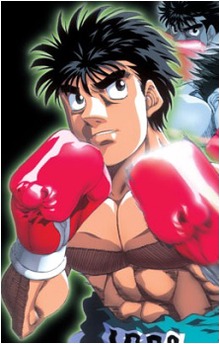 Ippo Makunouchi
Ippo Makunouchi is the main protagonist of the series. He lives with his mother, Hiroko Makunouchi, and helps with the family charter boat fishing business. Ippo is a classic power in-boxer and is well known for his Peek-a-Boo style of boxing and hard punches which include three signature punches: a rib-cracking liver blow, Gazelle punch (an uppercut variant), and the Dempsey roll technique. His signature punches appear to be modelled after Mike Tyson, Floyd Patterson and Jack Dempsey respectively.
Ippo is bullied throughout most of his school life. After being rescued by Takamura, he ends up being brought to Kamogawa Gym, where he displays an explosive punching power. After seeing a video of Mike Tyson, he becomes inspired to take up boxing to feel reborn with strength. He soon proves himself to Takamura and Kamogawa, and starts on the path to being a pro boxer.
His Pro-Debut Match was against Oda Yusuke, He was largely regarded as a lazy and unmotivated boxer, but when his girlfriend threatened to break up with him, he committed himself to training. From the first time the boxers met, there was tension between them, as a misunderstanding led Oda to believe Ippo made fun of him. On the actual fight, Ippo seemed to have the advantage from the beginning of the match, but was saved by his coach from losing the fight due to a cut. Ippo managed a comeback by knocking Oda out with a series of jabs, thus winning the fight.
After winning two fights upon his debut as a pro-boxer, Coach Kamogawa enlisted Ippo in the East Japan Rookie King Tournament. Ippo also had his personal goal in the tournament to fight with Miyata in the Pro Ring for their tie-breaker match. With this promise in mind Ippo aims to reach the East Japan finals.
First Round: Jason Ozuma Ozuma is a black officer from America who was stationed in Japan, and the only black boxer Ippo has faced so far. Jason is a very polite and kind man who cares greatly for his gym and friends. His most revered attacks, his devastating Hooks, are comparable to Takamura's in terms of speed. Ippo had to enter an in fight to win the first round. Ippo took major hits, but managed to turn the match around by pressuring Ozuma with his power. After an intense round, Ippo managed to take advantage of Ozuma's wide swing and his delayed punch, due to a broken rib, to deliver a second down and win the match.
Second Round: Kobashi Kenta Kobashi Kenta is a boxer that depends on winning with points. Ippo is annoyed by Kobashi's technique, which is to clinch often; eventually Kobashi's strategy, to rob Ippo of his stamina, takes effect. However, in the final round (the 4th round), Kobashi punches Ippo with a counter and becomes excited at the prospect of landing a KO on Ippo. Even though his second disapproved, his desire to gain a KO victory lead him to fight head-on, but Ippo took his chance the instant Kobashi stepped outside the pure, no-risk outboxing and KO'ed him.
Semi-final Round: Hayami Ryuuichi A pretty boy boxer who held the title of Inter High Champion with his fast barrage of punches called the Shotgun and Ippo's first opponent as an out boxer. Hayami looked down upon Ippo, and dismissed him since he felt Ippo was an unworthy opponent. Hayami's strategy uses a short uppercut against dashing infighters and finishes them with his Shotgun. Ippo, however, manages to counter him by using a cross hook counter against his short uppercut, and sees through the storm of punches. Having finally mastered bobbing and weaving at the training camp, he was able to avoid and get close to Hayami. Ippo finished the fight with a rush followed by an uppercut to win the fight in 1 round moving to the finals.
East Japan Final Round: Mashiba Ryou Ippo's final opponent in the East Japan Rookie King tournament defeated Miyata with a controversial foul and seemed poised to take the Rookie King Title. Ippo met Mashiba at his pro license exam, and has since been afraid of his dark demeanor throughout most of the series (albeit comically), but after witnessing Mashiba's foul, Ippo goes into the match determined to win. Initially, Mashiba's flicker jabs exploited Ippo's short reach by keeping him at bay, but Ippo eventually slipped in, broke Mashiba's elbow (at the expense of his right hand), and slugged it out with him. Ippo gave Mashiba his first and only legitimate black star in the form of a heavy and painful K.O victory.
Since Ippo had broken his fist, the All Japan Round didn't seem like a possibility, but when Ippo met Sendou, the West Japan Rookie King, in person, he decided to go ahead with the fight. He received therapy from Doctor Yamaguchi which allowed him to fight with a proper hand. The match was an intense slug-fight which ended abruptly before the fourth round when Sendou turned out to be unconscious in his corner, despite still sitting upright looking ready to continue.
After winning the All Japan Rookie Tournament, Ippo found that his rival Miyata was going overseas. Ippo was left with no current goal to motivate him. Rehabilitating his hand injured from his previous fight, Ippo breaks from training and starts supporting his fellow boxers at Kamogawa Gym in their fights. He then meets the current National Feather Weight Champion Date Eiji, who hints that in the future they may face each other since Ippo is already ranked number 10 upon winning the Rookie King Tournament. Ippo realizes that he wants to fight the Champion and trains for his new challenge. And he proceeds to do this by entering an A class tournemant and defeating Okita Keigo, Saeki Takuma and Alexander Volg Zangief. Date Eiji After earning his right to challenge Date Eiji, one of Japan's most revered boxers, Ippo went into the match bringing everything he had learned in his past 10 matches with him. For the first few rounds he succeeded in pushing the champion to his limits. However, when Eiji began using the high-level Neck Spin to negate most of the power behind Ippo's punches, Ippo becomes disoriented. Eiji gradually returns to his style of fighting from his younger days. He delivers a powerful Heart Break Shot that stuns Ippo, then prepares to deliver the finishing blow. But the referee stops the match because Kamogawa had already thrown in the towel. Victory goes to Date Eiji. Thanks to this match, Date regains his confidence in challenging the world champion, Ricardo Martinez. He relinquishes his belt, leaving Sendou Takeshi and Alexander Volg Zangief to fight for it. Sendou wins by a controversial decision and becomes the new Japanese Featherweight champion. Ponchai Chuwatana A Thai fighter ranked 3rd in Thailand who faces Ippo following his 5 month break against Date Eiji. Ponchai had a very well-built physique and a strong determination to win in his boxing matches.in the second round, Ippo starts to land small punches while swaying left and right, before speeding up and finishing Ponchai off with his new finishing move, the "Dempsey Roll."After this match, Sendou, the new featherweight champion, challenged Ippo to a match personally. Sendou Takeshi The continuation of the unfinished match between the hard punchers of East and West. Ippo and Sendou had been looking forward to a match since the All Japan Rookie Championship was unfinished in their minds. To prepare for the match they both strengthened their weaknesses through new training methods, Sendou improving his lower body and Ippo his upper body.
This match is considered to be one of the most intense since both fighters had roughly the same amount of punching power resulting in numerous slug fests and a footstomp from the audience that shook the hall. Ippo originally had problems since he had a smaller body, meaning he had a little bit less muscle and was going to lose unless he started to connect more punches than Sendou did. But with encouragement from his friends and remembering his training he managed to continue his match against Sendou. The match turned into a mix up, where both fighters drew out the others' potential and helped each other grow stronger. With one final showdown between their signature finishers, Ippo managed to pull through and finish Sendou off by inventing a combo of his 3 strongest techniques to take the belt and title. Sendou then personally congratulated Ippo.
After obtaining the National Japanese Feather Weight Belt from Sendou, Ippo defended the title successfully for eight consecutive times.
After yet another canceled fight with Ichiro Miyata, Ippo lost his drive and thought of retiring from boxing. However with the help of Iimura Mari and the words of his friends and previous opponent, he was able to find his true goal which is to become strong and went back to Kamogawa Gym to continue Boxing. Kamogawa then tells Ippo to aim for the World, but having them cut off the shortest route of getting to the top rankings by beating the OPBF Champ Miyata, Kamogawa tells Ippo that he will take a different path, which is to defeat all of the OPBF National Champions, obtaining their WBC rankings and becoming an unofficial OPBF Champion.
After his fight with Kojima, Ippo was told by the coach that he would be relinquishing the JBC Featherweight Title and moving up to challenging world rankers. His first match as a world contender is against Alfredo Gonzales, the 2nd ranked Featherweight in the WBA and 3rd ranked Featherweight in the WBC. in the 7th round, the boxers enter yet another exchange which Ippo wins, but as he goes for the finishing blow, Alfredo lands a powerful right counter and sends Ippo to the canvas, where he lays motionless. Kamogawa runs into the ring to help Ippo and the referee declares a TKO.
As of this fight, Alfredo is the second person to knock Ippo unconscious.
Total Fights: 25. Wins: 23, All of which are by KO. Losses: 3.