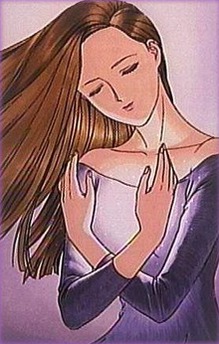 Enju
Flower: Japanese Pagoda tree. Has beautiful, vibrant, summer blossoms.
Reincarnated as: Issei Nishikiyori.
Enju was an anthropologist with telepathic powers. She had a steadfast love for Gyokuran, despite knowing she would never be able to compete with Mokuren for Gyokuran's attentions. Despite this, she never treated Mokuren badly and never let herself turn bitter. Later on, the two paired after Shion and Mokuren got engaged; however, Gyokuran still loved Mokuren and believed that Shion forced her into the engagement, allowing him to hope that Mokuren did love him back. Because of this, even after they hooked up, Enju's feelings were never really returned by Gyokuran. Shusuran was Enju's best friend and supported her unwaveringly as much as she could through Enju's days of trying to gain Gyokuran's interest. Enju was the fourth to die.