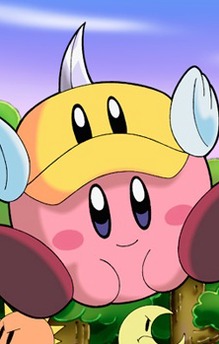 Kirby
Kirby is a young Star Warrior. He is spoken of in legend as Kirby of the Stars. However, Kirby himself is a creation of Nightmare—but he was considered a failure. No one knows for sure what happened afterwards, or how Kirby ended up in the starship that he crashes on Pop Star in. Because a Star Warrior's ship is designed to go wherever monsters are, Kirby's ship detected the creatures Dedede was ordering and he was awakened 200 years before schedule. Because of this, he is still only a baby.
Despite this, he readily fights for his friends. During battle he shows amazing skill, though he needs a little help sometimes.
Otherwise, Kirby is like any other child, though with a much larger appetite. He loves to play and sleep, and can be utterly fascinated by even the most mundane things. He has a strong spirit, and loves to help people—sometimes even his enemies. He even demonstrates a maternal side on occasion.
Since Kirby is only a baby he does not speak much, only saying "poyo." Certain characters such as Kine and Meta Knight have acted as if they understand him, and Kirby uses it quite expressively. Everyone else can only go by his tone and body language. Occasionally he speaks their language, his favorite word being "suika" (Japanese for watermelon) or repeating snippets people have said. He also commonly announces his own copy abilities or shouts out his attack names. (Of course much of what he says is removed entirely in the English dub.) Like Pikachu from Pokémon, Kirby also retains his original Japanese voice for the dubbed version, and is notable for being the only character who does so.
Kirby often shows that he understands language—he simply doesn't have the motivation to reproduce it himself, though he has the ability. It was stated by Meta Knight that Kirby should have slept in his starship for 200 years, and because he was "born" too early, he lacks knowledge and training.
The official explanation of why Kirby doesn't speak was that his creator Masahiro Sakurai did not want him to. Characters who don't speak are often created that way to be seen as more endearing and easier to relate to.