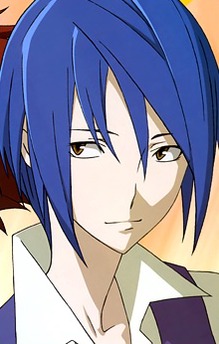 Sugata Shindou
シンドウ・スガタ
Sugata is a young rich man who is betrothed to Wako. He is the master of his family martial arts. He is cool and intellectual, and seems to keep his sadness to himself. He's the candidate to inherit the power of the King Cybody.
As a candidate to inherit the power of King Cybody, he's not allowed to leave the island. He hates his own birthday because, on his birthday five years ago, his father told him about his destiny to be bound with the King Cybody power. He is resentful of his fate. His first phase power, the King's Pillar, is so powerful that he falls into a coma after using it to save Wako and the others.
He eventually wakes up from coma in Episode 7 but, unfortunately, Scarlett Kiss has used her charming kiss power to manipulate him. However, Sugata managed to break from Scarlett Kiss' control and take over her Peshent to test whether Takuto is worthy enough to protect Wako. After the fight, both of them seem to come into an understanding. From then on, Sugata trains Takuto to be prepared for battle. Recently, Sugata seems interested in Head's painting and often visits him to know the progress of the painting. Meanwhile, Head takes this opportunity to get closer to him.