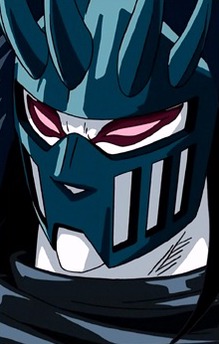 Starjun
スタージュン
Starjun is one of the three Bishokukai sous chefs. He had once fought Toriko using a GT Robo and lost however it was mentioned his power goes far beyond the mechanics of a GT Robo so it didn't reflect upon his true ability. He was then mentioned by Alfaro to the leader of the Bishokukai as being capable of handling the Gourmet World alongside some of the strongest members of the group. He is shown to be able to manipulate fire and heat.
Later in the series, it is shown that he forms a combo with Ootake.
Starjun is one of the many members of Bishokukai infiltrating the Cooking Island. He is then challenged by Toriko to a fight which we wins and then escapes with Komatsu. However he noticed Joa, the leader of NEO who demanded Komatsu handed over to him but with Starjun's rejection, Starjun protruded a third eye on his forehead which was due to Starjun possessing "Gourmet cell genetics" and was awakened due to him stretching his fight with Toriko to the limit. His power had supposedly grown so much that Joa believed his Cinderella knife wouldn't be able to "wound" him.