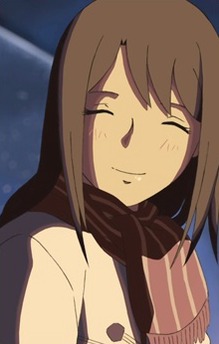 Akari Shinohara
Takaki's best friend in elementary school. She wanted to go to the same junior high school as Takaki, but because of her parents' jobs, she had to move to Tochigi after graduating from elementary school. She and Takaki keep in touch with letters.
Later on, due to their distance and time apart from each other, these letters ceased to be exchanged.
Because of the drift between Takaki and her, she married someone else and wants to tell Takaki this; however, at the end, they were so far apart that they ceased to recognize each other.