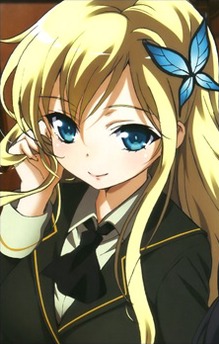 Sena Kashiwazaki
The wealthy blonde daughter of the school's headteacher, Sena shows a dislike of all things "ordinary." She is both attractive and academically successful, but her resulting arrogance leads her to be disliked by her female peers. Their admiration eludes her, much as she desires it; she treats her male classmates only as servants to be used, although many of them would like to be her boyfriend. Nonetheless, she holds Kodaka to a higher standard. Kodaka concludes that she is the weirdest member of the club, as she is able to warrant weird and disgusted looks not only from Yozora and Kobato but also from Yukimura and Rika.
She enjoys playing video games—including dating sims and eroge—partially because they allow her to make female (if virtual) friends. Yozora calls her "Meat" (Niku) an insulting nickname which she secretly likes because it is the first she has ever received. Her father is a friend of Kodaka's father, and pulled strings so that Kodaka could attend St. Chronica's.
She really likes Kobato, since she always gets really excited when she sees her. Usually, when Sena and Yozora fight, Sena usually runs from the room crying and shouting "Stupid Yozora! Go die!."
It is hinted that she has feelings for Kodaka.
In volume 7 of the novel, it was revealed that Kodaka and Sena are fiancés betrothed by their fathers which she fully accepts.
In volume 8, Sena proposes to Kodaka, asking him to marry her. Sena also confesses to Kodaka that she loves him.
In volume 9, Kodaka replies to Sena's confession. He loves her, but due to the circumstances within the club, he is begging her to be patient. As long as the club exists, he doesn't want to go out on dates. Sena agrees and the club returns to the old status quo.