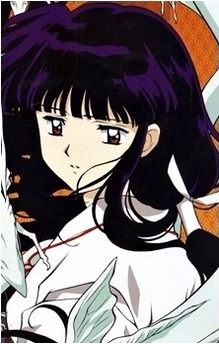 Kikyou
A shrine maiden who loved InuYasha throughout the series and was killed by Naraku (disguised as Inuyasha) who tore the two apart fifty years prior (in InuYasha's time) to the story's start. She is brought back to life by the ogress Urasue. Although she acts alive, her body is still "dead," and she must ingest the souls of the dead to move.
Her body is made of bones and graveyard soil with most of her soul in her reincarnation. Still under the impression that Inuyasha had betrayed her, she tries to kill him. However, after learning from her sister Kaede that Naraku was behind her death and that he had turned her and Inuyasha against each other, her feelings for Inuyasha returns while making plans to destroy Naraku.
Although she does not appear to entirely reciprocate Inuyasha feelings throughout most of their encounters, it is heavily applied they still have feelings for each other and make even more complicated by Kagome who she is aware of feelings for her lover. Throughout her journey, she has retain some characteristics of her former life such as helping those in need, being an older sibling figure while pursuing Naraku. She ends up saving Kohaku and Miroku's lives and dies peacefully in arms of InuYasha after being attacked by Naraku. Her life finally ends by the actions of Naraku, but not before sharing one passionate kiss from Inuyasha and feeling satisfied. Her soul is then carried by her soul collectors into the sky (it is implied that it returned to the afterlife).