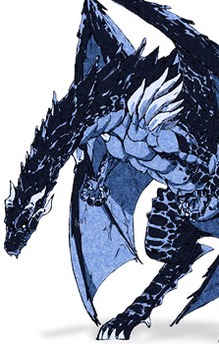 Tempest, Veldora
ヴェルドラ・テンペスト
Veldora is the youngest of the four strongest dragons (True Dragons). He is connected with Rimuru by an agreement and was known to rampage here and there. He was the one to name Rimuru and Rimuru gave him his last name, since they share the same last name, Rimuru could technically be classifed as Veldora's adoptive brother.
Connected to Rimuru via an agreement. Has ability that surpassed Demon Lord, A "Disaster Class" Monster.
Despite his nonchalant personality, he greatly appreciates Rimuru as his friend and trusts him.
Of the real dragons, he is possibly the one with the highest magical power.
Magic: True Dragon species Magic
Ultimate Skills: Thought acceleration, Appraisal(Analysis expert), All of creation, Probability Manipulation, Parallel Existence, Seeker of Truth, Space Time Control, Multi-Dimensional Barrier
Unique skill: Investigator
Daily Skills: Universal Perception, Domination Haki. Human Form
Battle Skills: Death Heralding Wind, Black Lightning, Storm of Destruction
Comments