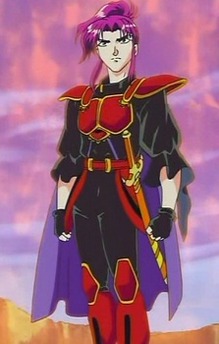 Mashuranbo
マシュランボー
Mashuranbo is the combined form of Mashura, Sago and Kutal.
He has three more forms : Black Mashuranbo, Satan Mashuranbo and Golden Mashuranbo.
In reality, he is the leader of the seven generals who wiped out mankind. His reasons for the global genocide are a vague idea of how this will make him a god. When partway through the war the meteorite carrying Ranunculus crashed, the Cardlien lead gave him three extraterrestrial gems that gave him the power to win the war.
He personally destroyed Center, but was he was about to kill Yakumo, she used her own powers to paralyze him, allowing the time traveling heroes to kill him. Mashuranbo's body was divided across the three gems, which now served Yakumo's gem. They were scattered across the world to find new hosts. When the gems are combined, it allows Mashura to use Mashuranbo's form to fight.
In the manga, Mashuranbo is likewise dead at the start and reappears upon the trio merging together, but unlike in the anime he has a mind of his own and can manifest his own body that appears right alongside the transformation of the trio. He destroys the merge form and abducts Yakumo to use her to revive the Matrixer King. He is subsequently killed by the Matrixer King.