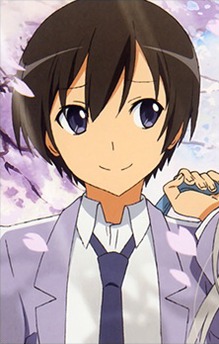 Mahiro Yasaka
Usually avoids close contact with Nyaruko and often stabs her with a fork.
Since this is a parody anime, Mahiro is a tsundere. Normally, tsunderes would be a female character.
It is shown that Mahiro has feelings for Nyaruko, but doesn't like her aggressiveness.
At the end of the series in Haiyore! Nyaruko-san F OVA Episode, when Nyaruko is about to lose all her memories she says that , even if she loses all her memories she won't forget her feelings for Mahiro. This made Mahiro to start cry and accept her and his own feelings he had for her. He kisses her and asks her whether she means it, for which she promises that she won't. They kiss again and return back to normal world, but both of them had no memories of the events that happened on that day. The next day she kisses him in the class which ends the episode.