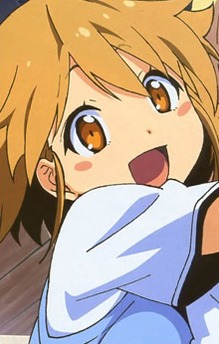 Misaki Kamiigusa
Misaki is the resident of room 201. Misaki is a third-year-student of Suiko who later attends Suimei University of the Arts. She is very outgoing and optimistic. Sorata often refers to her as an "alien." She has very good grades and is very good at drawing, but the school decided to send her to Sakurasou Dormitory because she pays too much attention on drawing anime and manga. She is very good at making animation and can handle most work in making one without help from others. She has already sold an animation to a famous publishing company and made enough of a fortune for the rest of her life.
She has feelings for Jin, and acts very open to express her feelings, but Jin turns a blind eye to this and dates many other girls, which makes her very depressed. The two finally become a couple during the fifth novel. In sixth novel, she registers their marriage without asking Jin, making them officially husband and wife; her new name is Misaki Mitaka. She moves next to the Sakurasou Dormitory after her graduation into a house which she designed and built herself and has a recording studio in the basement.
Comments
No comments have been written yet.