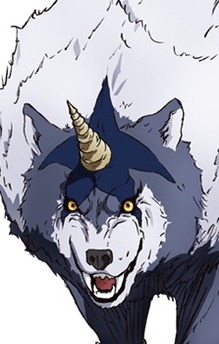 Ranga
ランガ
is a Wind Spirit Wolf and a loyal follower of Rimuru. The leader of the Star Wolf Clan, and the son of the previous boss of the Direwolves. He is also one of Rimuru's Twelve Patrons who has been given the title of a "Lord".
When he evolved into Tempest Star Wolf. His muscles bulged, his claws hardened, his fangs sharpened, and one extra horn appeared atop of his head.
Unique Skills: Demon Wolf's King
Daily Skills; Universal Perception, Demon Lord's Haki
Battle Skills: Law Manipulation (Wind), Black Lightning, Storm of Destruction, Soaring Run
Resistances: Physical Attack Immunity, Natural Elements Immunity, Abnormal Status Immunity, Mental Attack Resistance, Hybrid Attack Resistance
Comments
No comments have been written yet.