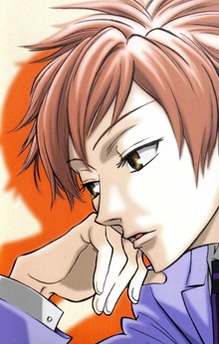 Kaoru Hitachiin
Kaoru Hitachiin is a devious and childish first-year student who greatly enjoys toying with his fellow Host Club members, Haruhi and Tamaki (whom he often calls "My Lord"). He and his older identical twin, Hikaru, are "little devil" type hosts who put on an act of "forbidden brotherly love" (with Kaoru as the uke) to draw in their clients. Unlike Tamaki, the Hitachiin brothers are wholly calculating in their customer relations; however, this is because of their deep dependency of each other and a reluctance to let anyone into their world. Hikaru and Kaoru share a deep emotional bond, which was forged through a lonely childhood and through the fact that no one could tell them apart without looking at the parting of their hair (Hikaru's hair parts to the right; Kaoru's parts to the left). Since Haruhi is the first person that can truthfully tell them apart, they greatly treasure her friendship. Haruhi has stated that Hikaru and Kaoru have their differences, despite being identical twins. Of the two, Kaoru is nicer, more mature, and considerate of others.
Tamaki was the one who coerced the brothers into joining the Host Club in their last year of middle school. Since they told him they would join if he could guess which one was Hikaru, Tamaki repeatedly followed them around, tossing out random guesses as to who was Hikaru and who was Kaoru. They finally crumbled, and decided to just try out the Host Club, which was their first step towards a greater exposure to a world outside of their own. Later in the manga, both Hikaru and Kaoru fall in love with Haruhi. In chapter 52, Kaoru takes Haruhi on a date to an amusement park; he tells her he loves her, and kisses her cheek, but gives up on her afterwards because his relationship with Hikaru is more important to him.
Comments
No comments have been written yet.